Pleased to Meet You?: Trepidation for First-Time Summiteers
Pleased to Meet You?: Trepidation for First-Time Summiteers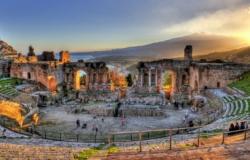 This weekend the 43rd G7 summit takes place in Taormina, Italy. Staff and students attending the summit are working as policy analysts with Sheffield University's Global Learning Opportunities in the Social Sciences (GLOSS) initiative.
International Media Centre, G7 Taormina Summit. The Taormina G7 Summit has been presented as 'Building the Foundations of Renewed Trust'; in the current political climate, this theme could not be more appropriate. For four of the seven leaders of sovereign nations around the table, this will be their first G7 summit, the first time this has occurred since 1981, and only the second time in history. Taormina therefore represents a golden opportunity for new alliances to be forged and fresh perspectives on old problems to be tested. For that to happen, however, there must be collaboration between the most powerful political figures.
The summit will be President Trump's first outing at a global summit, but his likely approach is unknown. His apparent distrust of transnational organisations and preference for 'America First' protectionist policies could lead to minimal input from the US. This has the potential to create an enormous obstacle to compliance with of any pledges agreed at the summit.
Conversely, he could use the summit as an opportunity to push his own agenda, in which case he could be an overbearing presence. In any case, he attends the summit amid allegations of sharing intelligence with Russia, who themselves were excluded from the G8 in 2014 because of their actions in Crimea. This would only hinder the intelligence sharing process between nations, especially between members of the 'Five Eyes' group, of which the UK and Canada are also a part. The lack of security information from other states could impede the US fight against ISIS, a hardline approach to which gained Trump much support during his election campaign.
Theresa May, already concerned with fighting a snap general election in the UK, will also be attending her first summit. She could be in a precarious position, facing a balancing act of working on a global level with EU representatives and member states, whilst also satisfying voters back home who wish to see the UK sever all ties with Europe. She will correspondingly want to avoid showing her hand to EU representatives, wary that she may have to enter into negotiations with them. Her supporters will expect her to deliver a deal that gives the UK a strong foundation to flourish in its post-EU life.
Emmanuel Macron's election as French President earlier this month should facilitate cooperation, particularly between France, Germany, Italy and the two EU representatives who are also in attendance. Whilst his rival for the presidency, Marine Le Pen, was fiercely anti-Europe and anti-globalisation, Macron has claimed he wishes to take a more open approach and strengthen ties with the EU and Germany in particular. Yet, he faces opposition from some parts of both France's traditional left and right, and does not currently have a parliament to govern. In addition, he is largely unknown to other world leaders, who will use the G7 as an opportunity to figure out how, or indeed if, cooperation will be possible. The upcoming weeks will therefore determine exactly how much impetus he is able to muster.
As trust is currently such a scarce commodity in world politics, this G7 summit was always going to be one with some degree of uncertainty about what the future might bring. With recent events, and the unpredictable nature of some of the world's most powerful figures, it promises to be even more so. Distrust between nations and leaders could well mean that a great deal of posturing, but not much policymaking, takes place. This would only bring into further disrepute the notion of the G7 as an effective form of government.
G7 Team: Garrett Wallace Brown, Hugo Dobson, Rachael Bunyan, Adam Coles, Jack Hunnaball, Dinora Kruja, Yuma Osaki, Dale Riahi and Jo Weir – Global Leadership Initiative, The University of Sheffield.
Photo credit: mariocutroneo via Foter.com / CC BY-NC-ND