Much Ado About Nord Stream 2: Pipeline Politics and European Energy Security
Much Ado About Nord Stream 2: Pipeline Politics and European Energy Security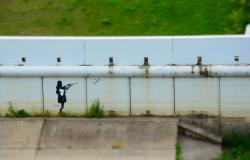 Alex Gilbert and Morgan D. Bazilian explore how the USA can support European energy security.
On Tuesday, U.S. President Trump warned the United Nations General Assembly that "Germany will become totally dependent on Russian energy if it does not immediately change course."
The Trump Administration's foreign policymaking, particularly on issues of trade and Russia, often entails major disagreements with a GOP-controlled Congress, reversals of Obama-era policies, and emphasizes unilateral action. On Nord Stream 2 (a proposed pipeline from Russia to Germany which would lie thousands of miles away from U.S. soil), however, the President, the State Department, and bipartisan majorities in Congress universally oppose the pipeline. They are now escalating diplomatic pressure begun in the Obama Administration.
In 2017, the Countering America's Adversaries Through Sanctions Act authorized the Administration to issue sanctions for Russia-European pipelines at its discretion. Additionally, several proposed bills are now heading through Congress that would mandate sanctions against companies participating in Nord Stream 2. During the recent Helsinki Summit, Nord Stream 2 was a central and contentious issue. President Trump criticized Chancellor Merkel for Germany's role in the pipeline, and discussed it with President Putin. The U.S. foreign policy (near) consensus is driven largely by: geostrategic competition with Russia, energy security risks to Ukraine and NATO-members, concerns about alliance cohesion, broader concerns about Russian threats to EU energy security, and competition between Russian gas and rapidly growing U.S. LNG exports.
Running from near St. Petersburg, Russia to Griefswald, Germany, Nord Stream 2 follows the cross-Baltic route of the existing Nord Stream pipeline. When finished, the new pipeline would roughly double the capacity of the original. Like Nord Stream, Nord Stream 2 is 51% owned by Russia-owned Gazprom with the remainder owned by European energy companies. At its core, the pipeline has become a proxy battle over Russian natural gas market share and European energy security, as well as larger Russia-related security and political issues. It is also the case that U.S. involvement in European decisionmaking, especially in an area as well-studied and considered as energy security, may be considered overstep and unwanted.
There are other several factors driving specific country concerns. In particular, many Eastern European countries, who rely on Russia for as much as 100% of their gas supply, are worried about politically-motivated supply disruptions. Ukraine is also deeply concerned about losses in transit revenue. That transit role, and associated conflict with Russia over it, were the subject of significant diplomatic rows on several occasion beginning in 2005 (and likely earlier). In 2017, Russia was the largest natural gas supplier to both Germany and Europe as well as a major oil supplier. Europe remains a critical market for Russian energy exports.
The Russian threat to Ukraine and NATO member energy security are real. As a monopoly supplier to some and a plurality supplier to the EU, Russia indeed has the power to manipulate flows and prices. When Nord Stream 2 is complete, Russia will be able to bypass Ukraine to transport natural gas directly to central Europe. In the event of a conflict with a Ukraine, Russia could manipulate supplies (and apply diplomatic pressure) to European countries to discourage intervention.
The construction of Nord Stream 2, however, does not substantially change this vulnerability. Russian market share is unlikely to substantially increase; there is already a pipeline over-capacity. Further, this scenario is unlikely to represent a serious threat to NATO cohesion. Germany was a leader in driving Europe to support Ukraine during the 2014 crisis. Energy market developments allows regional gas flows in response to any pipeline loss. Ultimately, U.S. sanctions may be counter-productive for Nord Stream 2. It could still be completed if European companies withdraw and Gazprom takes full ownership. Even if sanctions stop the pipeline's construction, U.S.-German relations and NATO cohesion would likely be strained.
For Russia, exploiting European energy dependence for geopolitical purposes is a slippery slope in practice. Following the use of natural gas supply as economic leverage during the 2014 conflict, Ukraine pursued a strategy of rapid natural gas supply diversification. For over two years, Ukraine imported no Russian natural gas, only resuming imports at a fair price in 2018. If Russia tries to leverage its oligopoly position in the short term, the European response would likely cause a large loss in market share and revenues in the long term. In natural gas, market dependence goes both ways; Russia has more to lose from a supply embargo than it could hope to win.
The EU has already addressed many gas security vulnerabilities through market development and supply diversification, particularly from new LNG import facilities. In the last several years, Poland added a LNG import terminal and Lithuania added a Floating Storage Regasification Unit. In July, maintenance on Nord Stream 1 cut pipeline capacity to zero; increased Norwegian gas flows, LNG, reduced storage injections, and changes in European energy flows prevented any major disruptions. In 2017, EU LNG import terminal capacity factors were only 28%, with a spare capacity that matches annual Russian natural gas imports.
Some opposition to the pipeline comes from U.S. business interest in Europe as a LNG consumer. Both trade and energy security concerns were factors behind President Trump and EU President Junker's recent announcement of greater U.S.-EU LNG cooperation. However, despite discussion of up to 11 new import terminals, Europe is unlikely to develop additional LNG capacity. U.S. spot LNG already has the ability to flow to Europe in large quantities but prices are too low. Nord Stream 2 could enable lower priced Russian gas, but it is unlikely to significantly impact U.S. market share. U.S. exports should primarily go to Asia due to higher LNG prices.
To better and more productively support European energy security, the U.S. could pursue collaboration on cyber security issues, promote knowledge sharing, and develop better integrated global markets. With supply diversification, EU gas supply security is more protected by LNG import optionality than actual U.S. LNG imports. Paradoxically, China's recent decision to levy 25% tariffs on U.S. LNG exports may threaten European energy security more than Nord Stream 2. A 'second wave' of U.S. LNG export facilities are nearing Final Investment Decisions and final regulatory approvals, which could catalyze a truly liquid, global LNG spot market. Maintaining an open, liquid global LNG market may be the best the U.S. can support EU supply security.
Morgan D. Bazilian is Executive Director of the Payne Institute and Professor of Public Policy at the Colorado School of Mines. Previously, he was Lead Energy Specialist at the World Bank. He has over two decades of experience in energy, natural resources, and environmental policy and international affairs. He holds a Ph.D. in energy analysis and was a Fulbright Fellow. He is a Member of the Council on Foreign Relations.
Alex is Cofounder of SparkLibrary, where he leads software design, energy data analysis, and policy evaluation. Previously, Alex analyzed electricity, natural gas, and oil markets for private sector clients at Haynes and Boone. Alex has a Masters of Energy Regulation and Law and a Certificate in Climate Law from Vermont Law School and is a non-Resident Fellow at the Payne Institute at the Colorado School of Mines.
Image credit: SarahTz via Flickr (CC BY 2.0)