Summit WAGs and Plastic Bags: Women's Engagement in G-Summits
Summit WAGs and Plastic Bags: Women's Engagement in G-Summits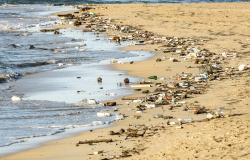 International Media Centre – G20 Osaka Summit. A recent report by the Union of Kansai Governments has estimated that almost 10 million pieces of plastic bags are currently adrift in Osaka Bay - only a stone's throw away from the summit's International Media Centre. The Kansai region isn't alone in facing this issue, reflecting the much wider global problem of marine plastic pollution.
Japan has made moves to assert itself as the de facto manager for the global oceanic clean-up and has brought together an array of talent, including researchers, local governments and private companies, to revolutionise methods to tackle the problem of oceanic plastic pollution. Methods were showcased during the G20 Karuizawa Ministerial Meeting and proved to the world that Japan has put on its game face in regards to environmental policy innovation and is looking to spread its influence both home and away. In a tactical move by the Japanese government, the summiters' wives and girlfriends (SWAGs) will also have the chance to get involved in the discussion of marine pollution through the summit's official 'Partners Programme'.
Over the past few decades, the programme emerged on the peripheries of the G-summits. However, activities of spouses were mostly limited to family photographs, fine dining and local cultural experiences. The role of the SWAGs was traditionally that of a highly-feminised media-friendly face as opposed to a potential political actor, representing something of an own goal in terms of increasing women's engagement in global politics. However, since the turn of the century the first ladies have been acquiring more and more political capital.
Their steadily emerging celebrity status provides a platform for political activism and spouses of world leaders now have the ability to exert more influence on global issues than ever before as political players in their own right. The Partners Programme is now an integral part of G-summitry and the SWAGs' politically engaged itinerary in Osaka, coupled with their increasing levels of influence, could offer a host of opportunities for increasing women's involvement in politics. Their efforts at the summit may not place women at the top of the political league but could at least help them to avoid relegation.
Between photoshoots and 'Japanese tea time' the SWAGs will be taking part in a symposium: 'Oceans - A Precious Resource for our Lives'. It will be interesting to see what will be discussed as previous meetings of the SWAG club have tended towards supporting individual women's charities or have actively worked to frame their discussions around women's agendas. As their status is currently more celebrity than political, it will be encouraging to see the spouses consider how they can increase awareness of, and ensure public engagement with, policy surrounding the marine pollution issues in their own countries.
However, at this stage it is impossible to tell whether and how their discussions will bear meaningful contributions. If they prove fruitless, they risk re-enforcing the clearly-defined gender roles that persist in contemporary politics. In a time where the media will be analysing their every move, if they receive such a red card who knows how long women will be forced to sit on the bench.
Regardless of the results we see in Osaka, the Partners Programme offers an opportunity for female inclusion in an environment where women have traditionally been few and far between. However, although gender equality has been a prevailing agenda item since the turn of the century, no one seems willing to blow the whistle at the overwhelming gender imbalance within the summits at the level of leaders, ministers and sherpas.
G20 Team: Christopher Adedigba, Matthew Bishop, Hugo Dobson, Tamar Hosking, Jack Moss, Laura Prieto, James Snowden, Emily Steers, Hannah Storer, Sovra Whitcroft and Rae White – Global Leadership Initiative, University of Sheffield.
Image credit: rey perezoso via Flickr (CC BY-SA 2.0)