An Ecosystems Approach to Understanding Identification Systems' Potential for Development
An Ecosystems Approach to Understanding Identification Systems' Potential for Development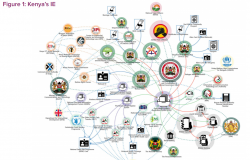 As international and civil society organisations increasingly show an interest in identification systems, a new report on Kenya aims to put the power and politics back into prevailing discourses on their potential to support development.
Development increasingly requires nuanced understandings of the overlapping, complementary and competing interests of the actors and institutions that maintain, govern and use identification systems. Accordingly, we're pleased to share a new report on Kenya's Identity Ecosystem.
It provides an overview of the main identification systems used to manage Kenya's development, and an in-depth exploration of three that are vital to Kenyans' participation in political and economic life. The research for the report was funded by Australia's Department for Foreign Affairs and Trade as part of their support to the Commonwealth Heads of Government Meeting to strengthen access to digital ID for women and girls.
The report's sections are designed to be read alongside an online map of Kenya's identification ecosystem. This map allows users to see how different elements within it, such as registries, credentials, regulatory authorities and companies, are connected. Clicking on any element will open a profile card that provides more information, including links to references and further reading. For ease of use, the report also contains hyperlinks to discussed sections of Kenya's identification ecosystem map.
This is the first output from our identity ecosystem mapping tool. We welcome feedback on the report, its methodology and Kenya's Identification Ecosystem map. Below are a preview of the report's findings and recommendations:
Findings
Stakeholders' within Kenya's fragmented identification ecosystem view identity systems as tools for development and control. Some champion identification to better provide government services and expand the digital economy; others to monopolise opportunities and address security threats. These sometimes stand in tension.
Ongoing exclusions prevent some marginalised ethnic groups from accessing identity systems that are vital for participating in political and economic life. Women and girls also face unique challenges to accessing identity systems, including application processes that do not account for their needs and exploitative officials.
Kenya's identification dependent private sector companies are intimately connected to the state and a small number of political families. These companies have benefited from a low regulatory environment that puts experimentation and profits ahead of customers' privacy and protections. However, Kenyans are increasingly discussing and questioning their reliance on identity systems.
Private sector service providers that rely on state issued identities create registers through their customers' data and analytics. Yet, many Kenyans do not fully understand what happens to their data, nor how it may be used to limit their access to future opportunities.
Recent efforts to introduce a new state identification system, known as the Huduma Namba, have been met with confusion and worry, and a civil society backlash. However, as a result, there have been indications that the state is rethinking its approach and may allow greater public participation in decision making.
Recommendations
The role of the Kenyan security services in identity systems should be challenged by the international community, and specifically development donors. Continued support to state systems should be made dependent on instituting clear and explicit rules of operation in law, increased transparency and legisla- tive safeguards of citizens' rights.
Development organisations could use their political and economic leverage to advocate for an independent authority with powers to conduct periodic audits, offer recommendations, and to sanction state and private sector identification systems. It should also be mandated to enforce data protection and privacy laws that are currently being debated by the government.
To support public trust in Kenya's digital economy, there is an urgent need for legislation which enshrines users' protection and privacy. Development organisations should support Kenyan civil society organisations currently working on strengthening and passing existing stalled draft bills.
Civil society should advocate for Kenya's gender specific policies to include targets for women and girls' access to key state and private sector identity systems. Reforms to realise them should be based on further research into women and girls' experiences with key identification systems.
Civil society organisations should be encouraged to build their technical expertise to have a stake in identification systems design and reform together with state and private sector decision makers. This could be achieved through active government support, partnerships with foreign technology specialists and domestic private sector stakeholders.
More broadly, a renewed international dialogue is needed to establish best practice to avoid the pitfalls of supporting identification systems in countries that have multiple overlaps between the state and private sector actors, opaque security sectors, and histories of human rights abuses.
Emrys Schoemaker (Caribou Digital), Tom Kirk (London School of Economics and Political Science) and Isaac Rutenberg (CIPIT).