Future Cities: Private, Tech-Enabled, and Inclusive? - a Conversation with Anjana Agarwal
Future Cities: Private, Tech-Enabled, and Inclusive? - a Conversation with Anjana Agarwal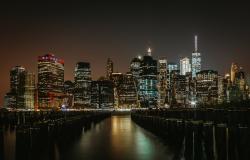 Anjana Agarwal, a Senior Associate at the Mission Investors Exchange and a GGF 2030 Fellow, explores the growing impact of tech services on cities and the future of "private cities".
In the last few years, urban services that were traditionally in the public domain are increasingly being provided by private companies. How do you think this will shape the future of cities?
Private provision of urban services – water supply, waste collection, urban mobility – is a very common consequence of rapid urbanization, when publicly-provided services are not able to cope with demand. We've also seen a swift rise in privately-provided services that leverage technology to improve service delivery. I think private provision, especially where technological solutions are leveraged, has the potential to be a very positive influence on the future of cities.
Private service delivery is often more efficient than public alternatives, and increased competition usually results in better service quality. More importantly though, private solutions have the capacity to innovate in a way that traditional public services do not. Take, for example, the slew of privately-run waste collection startups that have emerged in Indian cities. Companies like Kabadiwalla Connect and Citizengage have helped save several million tons of recyclable waste from ending up in landfills. In the US, companies like Spot Hero have filled a market gap by enabling smoother access to information about available parking spots and therefore less time and fuel spent driving around to find those spots.
But, of course, private solutions come with risks. For instance, the creation of private monopoly providers that can be rent-seeking and charge city residents an exorbitant price for basic services. While regulatory mechanisms exist to deal with private monopolists, in my opinion, the key challenge that future cities will face is ensuring that such solutions develop and grow in an inclusive and accessible manner.
The growth of large tech companies has completely changed the profile of some cities (bringing increased gentrification and a surge in real estate demand, for example). What governance measures can cities take to ensure that they remain inclusive and accessible for all?
Resistance to the growth of large tech companies and fear of gentrification is perhaps best exemplified by the recent backlash against Amazon in New York, which forced the company to cancel its HQ2 plans. New Yorkers fear what San Francisco and the larger Bay Area has already experienced due to the growth of tech companies – increased demand for housing, skyrocketing rents, fancier restaurants opening up, and the ever-increasing costs of products and services that price out old-time city residents. While the growth of tech companies has definitely led to gentrification, I think it's unfair to blame technology companies alone for gentrification: gentrification is the result of any economic development process, although the rapid growth of technology companies does increase the speed of gentrification.
That said, there are measures that cities can take to protect their social fabric and prevent complete change, particularly in the short run. For starters (and some of these were contemplated in New York with respect to Amazon), cities can require large economic players to invest in local workforce development programs. For me, creating a much larger inventory of affordable housing is also key to offsetting the negative effects of gentrification. For example, cities could require developers to build houses for the rich, the middle class, and the poor in a fixed ratio. Other collaborative public-private solutions could include converting empty nesters extra rooms into affordable housing stock.
In the long run, however, I think we need a fundamental change in how we think about cities and housing, and technology has a big role to play in this. One big shift could come through new construction technologies, such as new housing materials, designs, or construction techniques which reduce the costs of housing. Other ways this could change could happen is through new mobility options that make traveling easier or new remote working options that make it less important to have urban clusters.
How can cities better plan for the expansion of tech services?
Cities can better plan for the expansion of tech services by proactively engaging with new solutions rather than reacting to them, as has happened in the past with the likes of Uber and Airbnb. To me, the first step is to increase capacity to better understand technology – this could be through in-house capacity building or collaborations. Cities in the US are already starting to do this by hiring Chief Innovation Officers and building technology teams. Cities in India have some catching up to do here.
The next step is working more closely with a wide range of stakeholders – including new tech solution providers – to pilot ideas, identify the right markets for them, regulate prices, and regulate the scale of new launches. We're seeing this already with e-scooters and dockless bike sharing, for example, where several US cities have pre-emptively introduced licensing regimes after seeing the collapse of several bikeshare companies in China. A key parallel step is examining existing supply options and incumbent services closely and measuring current and future demand.
Proactive engagement coupled with a needs assessment can help develop sustainable tech services that are less likely to collapse and leave city residents stranded. Additionally, this can also help ensure that public and private services complement each other effectively. My favorite example here is from the city of Summit, New Jersey where the local city government partnered with Uber to provide residents subsidized first/last mile rides to the local metro station, thereby saving on building a very expensive parking lot close to the station.
There are already cities in India, such as Gurgaon, which are run almost entirely by corporations. Do such models have the potential to solve some of India's urban challenges? What are the advantages and disadvantages of such 'private cities'?
The concept of private cities is not new – India itself has seen successful examples of private or proprietary cities, such as Jamshedpur. For me, what sets Gurgaon (and its counterparts in many other countries, both developed and developing) apart is the focus on creating private communities for a few, rather than inclusive, well-planned cities.
Gurgaon is a dichotomous city – located a few kilometres from New Delhi, its genesis lies in rapidly deregulated land acquisition rules which allowed agricultural landowners to sell their ancestral lands to private developers. What very quickly emerged was a slew of private enclaves where residents had access to privately-provided city services – clean water, 24/7 power supply, private security guards, and even a private fire service.
For residents of private enclaves, the advantages of corporatized services are clear. For the rest of the city though, there are many disadvantages. A key negative fallout is the 'tragedy of the commons' which stems from the fact that there is limited regulation of common resources. For example, sewage collected from enclaves gets dumped in city landfills, city borewells are over-exploited to provide running water to neighboring high-rises, and diesel generators providing backup power pollute city air. Another disadvantage is that as city services fail to cope with burgeoning demand, more and more paying customers drop out of the public service delivery system causing quality to deplete further and leading to a downward spiral. Homogenized communities deprive cities of diversity in thought and action – something that is crucial to cities' growth – and can also lead to spike in crime levels due to growing divergence between those living in the enclaves and those living outside of them.
However, this is not to say that private cities are all bad. For example, Palava City, a Lodha group planned development in the outskirts of Mumbai envisages housing for many different income levels and is investing heavily in local economic development and innovation. Similarly, Israel-based Venn City is developing integrated work-live-play communities that cater to different socio-economic groups and involve local economic development/ job creation.
Anjana Agarwal is a Senior Associate, Programs at the Mission Investors Exchange. She is passionate about cities and urban infrastructure and has worked at an urbantech VC fund, the World Resources Institute, and as a project finance attorney in the past. She is a Global Governance Futures 2030 Fellow. The views expressed here are her own.
Image credit: Jörg Schubert via Flickr (CC BY 2.0)