Women in Stem: Critical to Innovation
Women in Stem: Critical to Innovation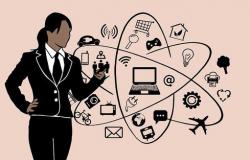 Stephenie Foster on how to address the barriers to women's careers in science, technology, engineering and math (STEM).
Our world faces multiple challenges: fragility of economic and political systems, cold and hot wars, cyberattacks and extremism, and disruptions caused by climate change. We need every tool to understand these threats and craft workable solutions. Science, technology, engineering and math (STEM) fields are at the forefront of creating tools and innovative solutions. At every level, we need our best thinkers and that must include women.
In December 2018, I participated in a series of meetings and speeches in Japan, focused on how to encourage women and girls to pursue STEM careers. These conversations highlighted the global and regional barriers to increasing women in STEM, as well as innovative interventions to change the status quo.
Why Women?
Simply put, diversity, both inherent and acquired, helps drive innovation. We know from research that diverse teams are more effective at problem solving, when different voices, viewpoints, expertise and life experiences are brought to bear.
This is true both in STEM and national security fields, which are overlapping and connected, given the security challenges that cybersecurity, extremism (often propagated via social media platforms), and climate devastation pose. Understanding the impact of these challenges on women and engaging women to address these issues -- as innovators, decision-makers and community actors -- is critical.
Globally, women are underrepresented in STEM. According to UNESCO, 29 percent of those in science research and development are women, with a low of 19 percent in South and West Asia and a high of 48 percent in Central Asia. Europe and North America are at 32 percent. In the U.S., 80 percent of STEM jobs are in engineering and computer science but women comprise only 12 percent of the engineering workforce and 26 percent of the computing workforce. In the U.K., women are underrepresented in STEM at every stage of the STEM pipeline. In 2016-17, women students accounted for less than 10 percent of A Level exam entries in computing, 21 percent in physics, and 39 percent in math. Across the 34 member countries of the Organization for Economic Cooperation and Development (OECD), women represent 58 percent of university graduates, but only 20 percent of computer sciences graduates.
In both academic and practical STEM environments, we need to cultivate ways of tackling science and technology problems that are inclusive, not exclusive, and that highlight the impact of STEM on real world problems. This helps interest women in STEM, which can address gaps in technology design and usability. Most artificial intelligence (AI), and the programs that utilize AI, are created by (white) men. Those programs and apps will be different than those created by a more diverse group. A recent article documented that "smart speakers" like Alexa and Home have a hard time understanding commands by those who speak American English with an accent.
Challenges and Barriers
Solutions to increase women in STEM must address three major types of challenges.
Redefining "what a scientist looks like" and lack of role models: STEM fields are broad and varied. Currently, within STEM, young women gravitate to healthcare, medicine, education, arts, and humanities, while young men gravitate towards engineering, computer science, math and physics. Young women need access to information about all types of STEM possibilities and the women who have succeeded in those careers. The media often does not cover these women and as a result women's career trajectories are less visible. In the U.S., young women engineers have started a social media campaign #ilooklikeanengineer to change these stereotypes. At the same time, parents and teachers need tools to encourage young women and girls to consider STEM careers, in order to break gender norms.
The "leaky" pipeline: Women drop off at every stage throughout the STEM journey, whether in elementary school, high school, university, or in the workplace. Those who remain can be isolated. An OECD study found that while 15 year-old boys and girls are fairly even in terms of science aptitude, girls have less confidence in their abilities. Girls drop out because of a confidence gap, not an ability gap. But once hired, just as in other fields, women may not be encouraged to pursue higher level jobs by their employers and the time constraints also can become pervasive as women enter child-bearing years.
"Meta" challenges: These are gender biases and stereotypes about whether women should, or can, pursue STEM careers. They are exacerbated by issues faced by virtually every woman in the workplace, such as perceived leadership aptitude, work-life balance, lack of child care, and flexibility.
How to Encourage Women to Enter (and Stay in) STEM Careers
Identifying challenges is easy. Identifying solutions can be harder, but research and experience point to the following interventions that can work.
Highlight women in STEM: There are have been successful women in STEM for hundreds of years. These include pioneers like Ada Lovelace, U.S. Navy Admiral Grace Hopper (1906-1992), one of the first programmers of the Harvard Mark 1 computer, and Briton Sarah Guppy (1770-1852), who patented a method to make safe bridge pilings. They include current innovators like Stanford student Amber Yang and the U.K.'s Sophie Harker, an engineer at BAE Systems. We need to tell these stories so we aren't continually "rediscovering" this gap. Databases like www.100esperte.it of 100 women experts in Italy or www.WomenAlsoKnowStuff.com help.
Redesign our education systems: It's critical to encourage female students from elementary school on by calling on them in class, taking their questions seriously, and making sure they see the possibilities of STEM careers. Teachers need the skills to embed this interest, and the exposure to the women role models discussed above. There are lesson plans that can be used to address these issues. "Auditing" how schools are doing in producing gender mix of STEM graduates can make a difference. Gender audits help teachers and administrators evaluate how students are doing, using surveys, focus groups, and data to evaluate student attitudes, participation patterns, and feelings of acceptance. If schools find gendered patterns of exclusion or harassment, they can more easily disrupt them. Scientists-in- residence at schools can explain what they do and be a resource for students. Across the globe, tech camps bring young women together during summer vacations. In Peru, the U.S. Department of State worked with the private sector and the Government of Peru to sponsor a camp with 100 young women from the United States, Chile, Mexico, and Peru.
Promote STEM's role in problem solving: In the U.S., women earn about 20 percent of engineering degrees and 16 percent of computer science degrees. This is being addressed at key universities by highlighting the social impact of science and its role in solving the world's pressing problems. These approaches have helped increase the number of women earning engineering degrees at schools like MIT, Yale, Howard, George Washington, and Harvey Mudd. At Harvey Mudd, the percentage of women graduating from the computer science program increased from 12 percent to approximately 40 percent in five years. The school revised its introductory computing course, provided research opportunities for undergraduates after freshman year, and exposed young women students to key conferences and meeting women leaders in the field.
Collect data to expose gender gaps: Data can pinpoint specific gaps in professional career paths and achievement. For example, there may be a lot of women in STEM overall, but fewer in computer science or engineering. It's easier to overlook gaps if we don't collect data. The European Union's "She Figures" database tracks comparisons of women and men Ph.D. graduates, researchers and academic decision‑makers. The data illuminates differences in the experiences of women and men working in research, such as relative pay, working conditions, success in obtaining research funds, and scientific publications.
Rethink the hiring and retention process: Gender blind interviews and application processes yield more women, not just in STEM. Helping women succeed in STEM jobs is equally important. Employers shouldn't make assumptions about how long a woman will stay at the company, or assign her only to certain tasks. Companies can also develop apprenticeship programs for those with nontraditional backgrounds. LinkedIn's Reach is such a six month program; successful participants include an optometrist and a dancer. LinkedIn focused not on resumes but skill sets, such as talent in coding, ability to learn new skills, commitment to work and growth potential during interviews.
Many of the issues faced by women in STEM fields are common to women in any workplace, but STEM jobs have particular challenges. We need to aggressively address these challenges to ensure that we have the best talent engaged, and enough people to fill these key jobs. Our ability to be competitive and create a secure future depends on it.
Stephenie Foster is a founding partner of Smash Strategies, which provides strategic advice to corporations, institutions and philanthropists to ensure that their investments in women and girls are effective and transformational. From 2012-17, she served at the United States Department of State, most recently as a Senior Advisor/Counselor in the Secretary's Office of Global Women's Issues, and before that at the US Embassy in Kabul, Afghanistan where she focused on women and civil society. Prior to joining the State Department, she had her own consulting firm, with an emphasis on domestic and international policy advocacy, government affairs, program development and training, and law. In both the US and abroad, she has worked extensively on programs to increase core leadership, civic engagement and advocacy skills, particularly of women; strategic planning; corporate and democratic governance; and project planning and management. Foster has worked in private law practice, as a Chief of Staff to United States Senators Barbara Mikulski (D-MD) and Chris Dodd (D-CT), and in senior management positions in the non-profit sector.
Image credit: http://rawpict.pw/Free-Image-on-Pixabay-Woman-Engineer-Work-Worker-Lady-in.html