Increasing the Visibility of Women Mediators: Some thoughts for the new Networks of Women Mediators
Increasing the Visibility of Women Mediators: Some thoughts for the new Networks of Women Mediators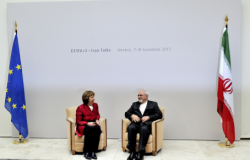 Catherine Turner explores the prospects and challenges for a newly created network of women mediators.
Recent years have seen the establishment of a number of new Networks of women mediators. These Networks have been created at the quasi-governmental level in regions including the Mediterranean, the Nordic region and Southern Africa to advance the representation of women in international peace mediation. They are a response to the persistent and severe under-representation of women in the highest levels of international mediation, particularly at the United Nations.
The creation of Networks of Women Mediators is rooted in United Nations Security Council Resolution 1325 which made normative commitments to increase women's participation in peace and security. Since UNSCR 1325 was adopted in 2000 successive resolutions have called for an increase in the number of women in high level mediation roles. This commitment was reinforced in 2017 by the UN Secretary General who pledged to increase the number of women mediators. The international environment therefore appears supportive of initiatives such as the creation of Networks. However there are a number of persistently challenging conceptual and practical difficulties that will still need to be grappled with, most notably question of why there should be more women mediators. This can be answered quite simply from a representational point of view- namely that women make up half of the population and therefore they should have equal access to peace processes. However the risk with this strategy is that representation – or the mere presence of women- in peace talks will not guarantee that they have any influence in those talks. So representation alone is insufficient to make sure that the process will be gender sensitive, meaning that it will take in to account the effect of conflict and peacemaking on women's lives. Therefore the debate centres more often on the argument that presence of women in peace talks will make a positive impact on the outcome.
While there is evidence to suggest that this is the case, there have been unintended consequences of relying on this claim. The first of these is that it has become too easy to equate women's presence with gender advocacy. What this means is that it is too easy to assume that women only represent women, and that they do not bring experience or expertise in other issues to the table. This has the effect of side-lining women and seeking their views only on 'soft' social or community issues. Equating women with women's rights advocacy also pushes women into a seemingly adversarial role where their presence challenges traditional actors and structures, making it less likely that parties will accept women mediators.
The second challenge is that the presence of women mediators risks being conflated with the role of the gender advisor. Gender advisors, whether female or male, are made available to mediators and their teams to advise on the gender aspects of the talks. Their job is to ensure that both the process and the outcome are gender sensitive. However in addition to the risk that women mediators are viewed solely as gender advocates, there is also the risk that parties, including donors and international organisations, will see the presence of women mediators as removing the need for gender advisors. This would be a backwards step, and would also lead directly to the final challenge, namely that responsibility for ensuring peace talks are inclusive and gender sensitive will be placed exclusively on women mediators. This would place a disproportionate burden of expectation on women to deliver sustainable outcomes in order to justify their role in the process.
Just like men, women play a number of different roles in peace talks. These include negotiators, mediators and expert advisors. The challenge for the new Networks is to work to define more clearly the different roles that women play in mediation and to ensure that these roles are treated as complementary to each other rather than viewing them all through the same lens. In practical terms this means supporting women at different levels and in different roles in peace processes. From the women mediators working at the community level, to women's coalitions and negotiators, to high level women mediators, a more system wide approach to supporting women in mediation could yield better results in the long run. A joined up approach will be needed between Networks, States and the United Nations whereby each works together to support the aim of increasing women's representation in peace mediation.
Dr Catherine Turner is Associate Professor of Law at Durham University. Her full research article, 'Absent or Invisible? Women Mediators and the United Nations' can be found here.