Coronavirus, Beyond 2020
Coronavirus, Beyond 2020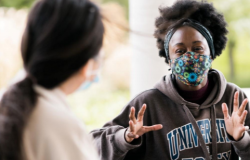 Koldo Casla reflects on a year dominated by the pandemic and why we still can't be sure what its final outcomes may be.
In March 2020, days after the World Health Organization declared Covid-19 a pandemic, I wrote my first article about this virus. I expressed that, at that early stage, which appears so distant in hindsight, Covid-19 was a test to the strength of our social foundations, a reminder of what can be achieved when we act collectively, and what can be lost when we do not. Human rights are important, I believed then and I believe now; they always are, and they are the passion of my life. But my first thoughts and emotions were not about our human rights as individuals, but about collective action, kindness, solidarity and responsibility. 'Coronavirus, beyond human rights' was the title of that first article, published in Open Democracy.
In April, I managed to put a few ideas in order about some of the human rights implications of Covid-19. I wrote a blog for Open Global Rights about the importance of seeing human rights and civic responsibilities as mutually reinforcing ideas in truly extraordinary times like this. As a matter of responsibility, and in light of the very unequal impact that the disease was proving to have in society, I argued that this was time to focus on the socio-economic rights (housing, health, education, social security…) of the most vulnerable in society to ensure an adequate standard of living for everyone.
Two and a half months later, my colleagues and I at the School of Law and the Human Rights Centre of the University of Essex put together an astonishing collection of 35 chapters about different legal and human rights implications of the virus. In just over twelve weeks, we wrote more than 300 pages that we made freely available for everyone online.
That was early July. Half a year has passed since then, and it feels like an eternity. More than 85 million people caught Covid-19 in 2020, of whom 1.84 million died, an awful number of them entirely alone. You and I know (of) some of them. The stretch of national healthcare systems has been overrun. Businesses have closed, people laid off, borders closed, opened and closed again, and government policies have zigzagged and u-turned.
The illness hit most of us in one way or another, but not equally. Some of us could work from home, and our jobs were more or less secured. Nobody enjoyed the restrictions, but we could comply with them regardless of our dislike. Many others did not have a choice. Teachers, posties, cashiers, nurses, riders, drivers… had to move around to keep their households and ours afloat.
Many found a new vocation as epidemiology and statistics aficionados. 2020 was the year when we learned there was a thing called 'the R number', the year when we debated the conclusiveness of the evidence about the protective capacity of masks, the year when we awaited keenly a press release from a healthcare regulatory agency we had never paid much attention to before.
Fiscal and socio-economic policies that were unimaginable twelve months ago have become the new temporary mainstream, put in place by right-wing and left-wing governments alike. Rules changed quickly, sometimes overnight. Governments resorted to often unenforceable guidance when laws could not be adopted following the general procedure in which laws are normally adopted.
Last year's crisis is going to be this year's crisis also. It is reminding us of the importance of kindness and collective support, the value in having strong public institutions we can fall back on when we need them. One might feel tempted to forecast, or to think wishfully, that this pandemic will teach us a lesson about the need to reverse the blind ideological commitment to neoliberalism of the last four decades. We may want to believe that society will open her eyes after 2020, that we will seek more egalitarian policies from now on, that a majority will demand the wealthy to contribute with a fair share, including via taxation.
We might be in Gramsci's interregnum, when the old is dying and the new cannot be born, but I would not bet on it just yet. The 'new normal' may end up meaning business as usual. I for one will keep advocating that we need more equality and more solidarity. But only time will tell if today's health crisis does not lead to consequences similar to or worse than those of previous financial crises, with growing inequalities between rich and poor, between powerful and dispossessed.
In ophthalmology, 20/20 means perfect vision, but I don't think we had that in 2020. To continue working on it is a fine new year's resolution for 2021.
I write this as vaccines begin to be rolled out while stricter measures are announced due to a new strain of the virus. Sadly, I did not get to see my family over Christmas. The wisdom of my 10-year-old nephew comes to mind right now. After a bizarre summer preceded by three months of Zoom-based education, when schools reopened last September, the teacher asked his class to write a letter expressing how they had felt in 2020. My nephew chose this letter ending: 'Zoaz pikutara, Covid-19', which can be translated from Basque as 'Go to hell, Covid-19'. It absolutely captures my mood, and I know I am not the only one. We should all have a teacher in our lives that gives us the chance to write something like that from time to time.
 
Dr Koldo Casla, Lecturer, School of Law and Human Rights Centre, University of Essex, UK.
Photo by Charles Parker from Pexels