How academia contributes to the world's net zero ambitions
How academia contributes to the world's net zero ambitions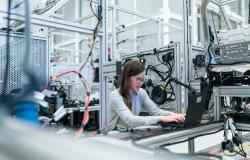 Universities can serve as "living labs" where investment in innovative energy solutions can be upscaled and tested in cooperation with industry.

Scaling innovative green technologies is an ambitious endeavour, but the long-term value for society and the planet far outweighs the cost and risk of inaction.
According to the United Nation's Net Zero Coalition, "The energy sector is the source of around three-quarters of greenhouse gas emissions today and holds the key to averting the worst effects of climate change". The good news is that much of the technology required to establish fossil-free energy systems is either already on the market or well underway in university research labs.
Universities as "living labs" for energy technologies
University leaders face increasing pressure to advance net zero and generate solutions for society. In cooperation with industry, universities play an important role in the energy transition. They serve as "living labs" developing, testing, and upscaling innovative energy and climate technologies. For example, ETH Zurich strives to become climate neutral by 2030, recently releasing a white-paper outlining its path to net zero.
This is a long-time coming and a gradual process. In 2006, ETH Zurich resolved to gradually replace its natural gas heating with an experimental, energy-efficient, and sustainable underground storage system, called the Anergy Grid. Instead of releasing waste heat into the atmosphere, the system's 200-metre (656 feet) deep geothermal fields store waste heat underground. They also supply seasonal heating and cooling off for 14 of our campus' buildings, with plans for expansion. The Anergy Grid reduced CO2 emissions by approximately 8,000 tons annually.
On the near horizon, scientists at ETH Zurich and, potentially, other Swiss institutions as part of a research collaboration, will take a closer look at how heat and seasonal storage could be implemented using Power-to-X, and how it could support the production of sustainable aviation fuels, while taking into account the overall energy system.
Scaling climate technologies – a worthy quest
The challenge in transitioning new technologies from the lab to the market is often one of scale. Solar fuels are an example of such projects applied within the university context.
Synhelion started at ETH Zurich as a "crazy" idea to reverse combustion. In 2019, the researchers demonstrated the entire thermochemical process chain under real field conditions in a solar mini refinery. Synhelion is now working with industry partners to scale its production of carbon-neutral solar fuels compatible with the existing global fuel infrastructure. They aim to decarbonise the transportation industry by producing enough solar kerosene within the next decade to cover roughly 50% of Switzerland's jet fuel demand.
While society applauds novel findings in science and technology, enthusiasm wanes with the prospect of costly, widespread infrastructure changes. Climeworks, emerged out of the same renewable energy lab at ETH Zurich. It has raised $650 million in equity in the past year to accelerate its direct air capture technology that pulls CO2 from the air and safely stores it deep underground.
Named one of TIME100s "Most Influential Companies" in 2022, Climeworks endeavours to capture a billion tons of carbon dioxide by 2050. Following a successful pilot in Switzerland, they launched "Orca", the world's first and largest direct air capture and storage plant in Iceland in 2021. They recently broke ground for a new plant, "Mammoth", that will have a nominal CO2 capture capacity of 36,000 tons per year. Like other ground-breaking technologies, it might require further venture capital investment, political incentives, or government subsidies to scale the technology until society catches up.
Everyday choices impact net zero
Even if your organization does not have the resources to transition its energy infrastructure, there are many low-cost opportunities that can move the needle toward net zero. We started to take a critical look at our own behaviours - as individuals and as a community. With the help of South Pole, a partner of the World Economic Forum and an ETH Zurich unicorn, we started to take a critical look at our own behaviours as individuals and as a community. About a decade ago, we asked ourselves, "What can we do to educate our community, many of whom are the next generation's leaders and innovators, about the carbon impact of everyday choices?"
When it comes to sustainability, we maintain an open-door approach. Some of academia's most dramatic cultural shifts have come from students. Planted is one such success. Planted has commercialised plant-based meat made entirely from alternative protein. The alternative food choice addresses the staggering greenhouse gas emissions (14.5%) from the livestock supply chain. Such products are increasingly integrated into the university's dining and catering services. Another is Eaternity, an "eco-spinoff" that quantifies the precise environmental footprint of food products and enables smart food choices.
A major issue for academics is the reduction of air travel. Academics should opt, where possible, for train transportation or virtual conference participation, which can cut greenhouse gas emissions significantly. Sometimes air travel cannot be avoided in academic life. In these cases, we must reflect on how we could reduce CO2 and bring added value by combining conference attendance with opportunities for collaboration and meetings in the same area.
Collective efforts motivate net zero innovation
To make a critical contribution to reducing greenhouse gas emissions by 2030 requires not only social and technological advancement, but also the personal involvement of every member of an organization, a country, and even a continent.
The profound transformation required to meet net zero commitments cannot be underestimated, but both the cost and risk of inaction are inexplicably high. A collective effort to further advance net zero between 2030 and 2050 also motivates opportunities for innovation in the day-to-day operations and in developing long-term solutions for more climate-friendly scientific research, economies, and societies.
Joël Mesot is President of ETH Zürich (Swiss Federal Institute of Technology in Zürich, Switzerland) and Co-Chair of the Geneva Science and Diplomacy Anticipator (GESDA) Academic Forum.
This first appeared on the World Economic Forum's Agenda blog.
Photo by ThisIsEngineering