A Mayoral Network for Pandemic Preparedness
A Mayoral Network for Pandemic Preparedness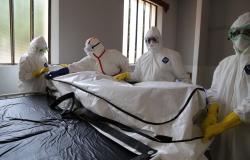 Owing to major demographic shifts and the dynamics of urbanization, future large-scale infectious disease outbreaks will likely be mostly urban in nature. Municipal leaders are forging collaborative efforts to design and implement locally tailored solutions to a wide range of traditionally global challenges, while also offering information and best practices to others. We propose a similar network-based approach – either new or linked to an existing city network – for pandemic preparedness. This network is justified, as mayors are often already responsible for instituting measures designed to respond to infectious disease outbreaks and are important figures in building local capacities. Forming a mayoral network would provide mayors a platform to collaborate, share experiences and best practices, and improve communication during outbreaks. This mayoral network for pandemic preparedness would represent a novel and impactful approach for improving local, national, and global health security.
Background
The total number of infectious disease outbreaks and diversity of pathogens have increased over the past few decades. Urbanization directly contributes to the risk of infectious disease (e.g., increased human to human contact), as well as indirectly through ecological changes (e.g., deforestation, land use patterns, etc.), and promotes disease emergence in urban populations by providing conditions ideal for the amplification and transmission of disease. Although international public health institutions, governments and civil society groups are making progress in mitigating the health impact of infectious disease outbreaks, the scale of the associated economic and societal disruptions are increasing.
According to the United Nations, between 2000 and 2014, the number of people living in cities increased from 2.9 to 3.9 billion, resulting in the proportion of the total population living in urban regions rising from 47% to 54%. Current projections suggest that this trend will continue and that 66% of the world's population will live in cities by 2050. Because cities are dominant hubs of global travel and commerce, including for voluntary and forced migrants, future infectious disease outbreaks will be overwhelmingly urban. Indeed, the risk of disease transmission between global cities is heightened by the transnational flow of products and people, which accelerates the speed that pathogens can spread around the world.
The governance of infectious disease has a lengthy history. For centuries, cities and states engaged in various forms of transborder and domestic controls intended to protect population health. The quarantine measures introduced by the Venetians are one such example. The development of modern norms and rules emerged in 1851 when the first International Sanitary Conference convened to discuss measures to control cholera. Since then, diplomatic gatherings to prevent the spread of disease have spurred the creation of numerous agreements, treaties, and regulations. These forms of global governance provide a legal and operational framework for addressing infectious disease threats and have enabled substantial progress. Even so, their full enforcement and implementation largely depends on the participation of local stakeholders.
Addressing global challenges in urban environments
Cities are squarely positioned at the frontline of global challenges such as climate change, migration, and threats to security. With nation states either unwilling or unable to rapidly address many of these threats, a growing number of municipal leaders have taken the initiative to design city led solutions. The late political scientist Benjamin Barber argued in his book If Mayors Ruled the World? Dysfunctional Nations, Rising Cities, that mayors were highly suited to taking the initiative owing to their innate pragmatism, inclination toward cooperation and networking, and commitment to taking practical action. The former mayor of New York, Michael Bloomberg, contends that mayors are naturally predisposed to addressing common challenges in order to make cities more livable and attract talent – critical prerequisites for economic growth.
One way to address major global threats such as pandemics is by forming institutionalized networks of cities. Municipal partnerships are hardly new: between the 10th and 15th centuries, hundreds of European cities developed federations to promote commerce. At the height of its influence, the Hanseatic League included more than 100 cities across Europe and maintained its own legal system, tax code, and police force. Today, intercity networks are flourishing. There are more than 200 intercity coalitions around the world. City leaders instinctively recognize their interdependence and the dividends of regional, national, and international collaboration.
Successful intercity alliances expand city voice at the global and national levels and contribute to the development of locally tailored solutions and the exchange of best practice models. Furthermore, participating in networks can provide local governments with increased opportunities for assuming a lead role in global and national policy formation and dissemination, and promote accountability by working towards common objectives. Owing to their ability to develop and coordinate worldwide networks, cities have a considerable "soft power" to drive a wide range of agendas. To date, the most notable examples of these internetworks include partnerships for addressing climate change – such as the C40 Network and the Cities for Climate Protection Campaign Network.
A mayoral network for pandemic preparedness
The creation of a city network for pandemic preparedness could significantly enhance global health security. A pandemic preparedness coalition could be established either as an autonomous city alliance or subsumed within an existing intercity network. Such partnerships can demonstrably strengthen individual and collective city capacities to prepare for, and respond to, outbreaks. A city network approach is appropriate since mayors already play significant roles in responding to urban infectious disease outbreaks. In many cases, mayors have the authority and discretion to fund or support local capacity building projects – which may be part of larger national response plans, or independent city initiatives. These microlevel measures have the potential to dramatically improve local, national, and global health security.
Mayors are already responsible for coordinating a range of pandemic response activities. Examples include instituting social distancing measures, distributing medical countermeasures, identifying and assisting vulnerable populations, engaging police and first responders, controlling transport networks, securing water supplies, advancing essential public-private cooperation, and managing crises communication efforts. Cities also represent the frontline defense for workforce protection, mitigating business risk, and limiting the impact of infectious disease outbreaks on the global economy. Despite their central role, mayors are seldom integrated into global pandemic preparedness governance initiatives. The formation of an international network of mayors focussed on pandemic preparedness constitutes a logical step for better engaging arguably one of the most important actors in an outbreak response.
An intercity network would add value to pandemic preparedness initiatives by affording mayors more opportunities to collaborate. Specifically, mayors and their public health teams could share best practices for enacting evidence based planning, policy, and management to effectively respond to public health threats in urban environments. The network could support the creation of guidelines for communicating with and engaging the public and media during an outbreak response. The network could also improve city to city communications during an outbreak through the creation of mechanisms to share data, analyses, and lessons learned to improve coordinated responses. Moreover, an intercity network could bolster the global pandemic preparedness policy agenda, calling on national governments and international organizations to more effectively prepare for and respond to future pandemics.
Pandemic preparedness is a global issue primed for local, action oriented solutions. While the threat of catastrophic pandemics is rising, mayors have a robust incentive to engage with pandemic preparedness initiatives. The creation of an intercity network to promote pandemic preparedness could potentially be embedded in a larger global urban health coalition – such as a new H40 that seeks to build a global network of cities focused on urban health. Alternatively, the initiative could be integrated into existing city networks that are well situated to place cities in the lead on urban health and pandemic preparedness. To wit, the Global Parliament of Mayors has already put pandemic preparedness on the agenda for its upcoming annual summit in October 2018 – affirming the importance attached to the issue by municipal leaders. Whether acting independently and collaboratively, mayors have a compelling opportunity to make a meaningful global impact by forming networks and partnerships to implement pandemic preparedness initiatives that would hold significant benefits for health security.
Rebecca Katz is the Director of the Center for Global Health Science & Security at Georgetown University. She has more than a decade of experience working to help design systems and implement policies to facilitate a coordinated response to infectious disease outbreaks and pandemics. She is an expert on global health governance and the International Health Regulations.
Matthew R. Boyce a Research assistant and project manager at the Center for Global Health Science & Security at Georgetown University. He has worked on a variety of global health areas, including global health security, health systems strengthening, and vectorborne disease.
Ryan Morhard is a project lead at the World Economic Forum. His professional expertise is in global health security, international and domestic public health emergency preparedness and response, law, disaster response and recovery, and biosecurity and national security implications of emerging science and technology.
John T. Monahan is senior advisor for global health to Georgetown University President John J DeGioia; senior fellow, McCourt School of Public Policy; and senior scholar, O'Neill Institute for National and Global Health Law. Monahan previously served as the special advisor for Global Health Partnerships at the U.S. Department of State as well as counselor to the secretary and director of global health affairs at the U.S. Department of Health and Human Services.
Sheila R. Foster is a Professor of Law and Public Policy at Georgetown University. Prior to joining Georgetown, she was a University Professor at Fordham where she co-directed the Fordham Urban Law Center, was a founder of the Fordham University Urban Consortium, and served as Associate Dean and then Vice Dean at Fordham Law School.
Robert Muggah is the co-founder of the Igarapé Institute – a think and do tank working on data-driven safety and justice across Latin America and Africa. He also co-founded the SecDev Group and Foundation and is faculty at Singularity University. He is a specialist in cities, security, migration, and new technologies and has consulted with the UN, the World Bank, various governments and firms. He earned his PhD from the University of Oxford.
Image credit: Pan American Health Organization PAHO via Flickr (CC BY-ND 2.0)