COP28's Imperative: Addressing the Interplay of Climate Change, Political Instability, and Violent Extremism in Niger
COP28's Imperative: Addressing the Interplay of Climate Change, Political Instability, and Violent Extremism in Niger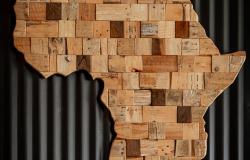 Abdoulie Ceesay, the Gambian Government's representative at COP28, argues that Niger shows why world leaders muct negotiate global agreements on both climate security and finance.
The recent coup in Niger is only the latest chapter in an alarming pattern of increasing instability and military dictatorship sweeping across the Sahel region of Africa. While some observers may see these coups as isolated incidents, they are, in fact, manifestations of a deeper, multifaceted crisis, largely rooted in climate change, which has been neglected by the international community.
In the wake of such military coups, jihadist extremists have found fertile ground for expanding their influence amidst the growing instability in the Sahel. In this context, the question arises as to whether military interventions, such as those proposed by the Economic Community of West African States (ECOWAS), can resolve these crises. My personal experience as a Gambian Parliamentarian suggests that such interventions cannot be applied universally and may further destabilize an already fragile region contending with the rise of Islamist extremism. More importantly, these interventions fail to address the underlying factors driving these crises - inadvertently giving extremists an even stronger foothold.
The fact that Western academics continue to debate the relevance of climate change in the Sahel's conflicts reveals a disconnect with on-the-ground realities. The stark reality of Niger's situation is characterized by it suffering nine droughts and five floods within two decade -, wreaking havoc on its rural communities. Periodic water shortages induce recurring food crises, occurring approximately every four years. An International Monetary Fund study identified climate change as a driving force behind these food shocks, which, in turn, lead to appalling levels of rural poverty.
These climate-driven challenges are then exacerbated by rapid population growth, economic discontent, weak governance, and insufficient services, creating a volatile environment ripe for extremism.
Indeed, an African scholarly study from last year aptly termed the succession of Sahel conflicts as "eco violence," encompassing environmental, social, and political failures. And the Institute for Economics and Peace identified the Sahel as one of three global ecological hotspots at risk of collapse, with the second hotspot spanning the southern African belt from Angola to Madagascar. Thus, the term "climate coup" is an appropriate label for the crisis in Niger. Like other Coups in the region, it has been born out of the conditions created by climate change. In the Sahara, Darfur, and across Africa, climate change is entrapping communities in devastating cycles of violence, corruption, and displacement, signaling a foreboding trend.
United Nations officials acknowledge that a protracted lack of climate adaptation financing for Sahel countries, hindered by bureaucracy, flawed accounting, and debt, has paved the way for the violence behind coups in Mali, Burkina Faso, and Niger. Denying climate change's pivotal role in exacerbating deprivation on the continent serves as a convenient excuse for the international community - diverting blame instead on to African history, tribal differences and political disputes.
Despite contributing a mere 3.8 percent of global carbon emissions, Africa bears the brunt of climate change induced by major carbon polluters, including the United States, Europe, China, and others. Consequently, my skepticism mirrors the Western doubts about the upcoming COP28 climate summit in the United Arab Emirates. Previous UN climate summits have struggled to meet climate financing pledges, even falling short of the $100 billion target set three years ago, widely criticized as inadequate by experts.
In a promising development however, the presidency of the upcoming COP is addressing this bottleneck with a high-level panel focused on reforming international financial systems to swiftly provide sufficient climate financing. The COP28 president also supports a plan to mobilize up to $1 trillion for poorer nations. If successful, these initiatives have the potential to save countless lives across Africa.
Perhaps the most significant endeavor of the COP28 presidency is its attempt at the UN Security Council to incorporate climate change considerations into policymaking on security, peace, and conflict at the highest levels. Notably, this effort faces resistance from major carbon polluters like China and Russia, who stand to benefit from diminishing Western influence in West Africa.
The impending crisis in Niger starkly demonstrates that development finance, climate mitigation, and national security are interconnected. In light of these converging challenges, the upcoming COP summit provides a crucial platform for world leaders to negotiate global agreements on both climate security and finance. A transformative paradigm shift in climate financing, anchored in a comprehensive approach to climate security, is imperative to unlocking the resources Africa urgently requires, not only for the protection of its vulnerable populations but also for a future marked by resilience and sustainability for the people of the Sahel.
Abdoulie Ceesay is the Deputy Majority Leader of the National Assembly of The Gambia and will representing the Gambian Government at COP28. As a Member of Parliament, he serves on Committees for education, trade, youth, human rights, and constitutional matters. Ceesay is also a member of The Gambia's delegation to the African, Caribbean and Pacific (ACP) states – for the EU Parliamentary Assembly. He is also the founder of the Help Foundation Gambia, a charitable organization. Ceesay also serves as Secretary for The Gambia Parliamentary Youth Caucus.
Photo by Magda Ehlers