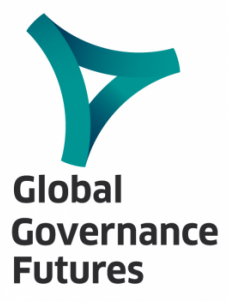 Over the course of one year (2018-2019), the Global Governance Futures programme, or GGF, brings together young professionals to look ahead 10 years and recommend ways to address global challenges.
At the heart of the GGF philosophy, we believe that the greatest asset of the programme lies in the diversity of our fellows and the collective energy they develop when they come together, discuss, debate and engage with one another during the four intense working sessions. This is why the fellows squarely occupy the center stage, setting GGF apart from many other young professionals' programmes. The fellows play an active role in shaping the agenda of their respective working groups. The working process draws on the GGF method and brings together the unique strengths, experiences and perspectives of each fellow in working towards a common goal. The GGF team works closely with the fellows to help them achieve these goals and, in the process, cultivates a community that will last well beyond the duration of the programme through a growing and active alumni network.
Building on four successful rounds of the programme – GGF 2020, GGF 2022, GGF 2025 and GGF 2027 – the next round, GGF 2030, will assemble 27 individuals from Brazil, China, France, Germany, India, Indonesia, Japan, South Africa, and the United States (three from each country). The GGF fellows form three working groups that explore a particular issue area of global governance. In GGF 2030 they will focus on the futures of global order, of global migration and refugee challenge, and of the role of cities in global governance until the year 2030. Using instruments from the field of futures research, the working groups will explore and produce scenarios for their respective issue areas. Based on their findings, the fellows will put together a range of publications, including reports and commentaries, and podcasts that present their findings on how to foster effective, accountable governance now and in the years ahead.
Op-Eds
Indonesia: Move Away from Business-As-Usual, Don't Move the Capital
Aidy Halimanjaya argues that Jokowi's focus should be on pushing forward Indonesia's energy sector reforms.
Japan Runs the Risk of Repeating the Migration Mistakes Made by the "West"
Global Governance Futures 2030 fellow Naoko Hashimoto outlines three critical shortcomings in Japan's latest immigration reform.
Aging Gracefully: Japanese Cities Lead the Way
Global Governance Futures 2030 fellow Ryo Ishida on why Japan's cities are fit for its aging population.
Hong Kong Should Use Its Financial Might to Fight Human Trafficking
Tze-wei Ng argues that Hong Kong is witnessing a growth in responsible investing that takes into consideration environmental, social and governance (ESG) factors. Can it leverage its financial hub status to become a regional leader in the fight against human trafficking?
A Call for Smart Commercial Diplomacy
Carolina Costa on Bolsonaro's opportunity to restore investor confidence and Brazil's positioning in global markets.
South Africa: Driving the BRICS Agenda
Pretoria's commitment to inclusive and sustainable development – internationally, in Africa, and domestically – will drive the BRICS agenda for this year and mark its contribution.
Our Global Future Will Require Inclusive Ideas - Joel Sandhu
Joel Sandhu introduces the Global Governance Futures 2030 – Robert Bosch Foundation Multilateral Dialogues and outlines its approach.
India's Thinking Global. It Should Act Regional First
Aryaman Bhatnagar and Joel Sandhu argue that India's claim as a player on the global stage will be judged against its ability to manage security and stability in its own backyard.
Interviews
Future Cities: Private, Tech-Enabled, and Inclusive? – a Conversation with Ambre Eyoum
Climate & Energy Industry: Beyond the Blind Spots – a Conversation with Ambre Eyoum
Cities Are the Last Line of Defense of Globalization – a Conversation with Ana Ramic
A Pragmatic and Humanist Approach to Refugees and Migrants – A conversation with Helidah Ogude
Think Local and Act Global - A Conversation with GGF 2030 fellow Cara Stauß
Will Indonesia Emerge as Asia's Third Giant? - A conversation with GGF 2030 fellow Liana Lim Hinch
Connecting Locals with Newcomers: A conversation with GGF 2030 fellow Cédric Bischetti
Japan's Tussle Over Immigration: An interview with GGF 2030 fellow Naoko Hashimoto
Podcasts
The State of Human Rights in Brazil - A Conversation with Maria Laura Canineu
Where is Hong Kong's Lion Rock Spirit? - A Conversation with Tze-wei Ng
South Africa: Taking Stock of Ramaphosa's First Year in Office - A Conversation with Cyril Prinsloo
Brazil: Breaking an Addiction to Bad Governance - A Conversation with Matias Spektor
Media, the Internet and Censorship in China - A Conversation with David Bandurski
How Does the EU Work with African Countries on Migration? - A Conversation with Matthieu Tardis
Finding the Story of Us - A Conversation with Mathieu Lefèvre
Refugees and Internally Displaced People in India - A Conversation with Aarti Tikoo Singh
Mapping Possible Futures - A Conversation with Johannes Gabriel
The Migration and Refugee Challenge in the European Union - A Conversation with Julian Lehmann
The Politics and Financing of Water - A Conversation with Scott Moore
A New Era of Geopolitical Competition - A Conversation with Thomas Wright
Beyond the Beltway: Talking to Americans About US Foreign Policy - a conversation with Julie Smith
Brazil Unraveling: the Country of the Future in Crisis - A Conversation with Matias Spektor
France: A Balancing Power on the Global Stage? - A Conversation with Thomas Gomart
Europe and the Future of Liberal Democracies - A Conversation with Wolfgang Reinicke
How Can We Plan For an Uncertain Future? - A Conversation with Johannes Gabriel
How Will India Shape Regional and Global Issues in the Coming Years? - A Conversation with Tanvi Madan
Cities: How Urban Life and Global Politics Come Together - A Conversation with Michele Acuto
The Ramaphosa Era: Challenges at Home and Abroad for South Africa - A Conversation with Elizabeth Sidiropoulos