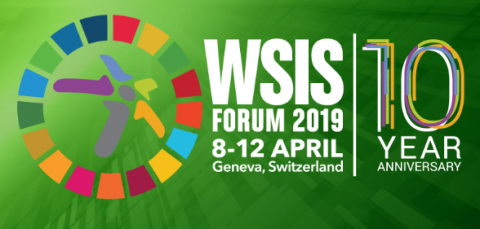 The World Summit on the Information Society (WSIS) is a United Nations multi-stakeholder platform, co-organised by ITU, UNESCO, UNDP and UNCTAD, held towards addressing the WSIS Action Lines for advancing Sustainable Development Goals (SDGs). As such, it is currently the largest annual meeting on digital technologies for development. The theme of this year, the Forum's 10th anniversary, is "Information and Communication Technologies for achieving the Sustainable Development Goals".
The World Summit on the Information Society 2019
The WSIS is taking place in Geneva, Switzerland, from 8thto 12th April. The University of Sheffield, through the Global Leadership Initiative, will be taking a team of eight students led by Dr Suay M. Ozkula (Sociological Studies) and Dr Paul Reilly (Information School) to the WSIS where they will be identifying and analysing emerging issues in digital technologies from the summit. The team will also host their own student-led event on ICTs in higher education, in which students will be presenting case studies from university. The team will offer critical reflections on policies in a rapidly evolving and therefore still volatile information society. Throughout the summit, the team will produce a series of blogs, vlogs, and policy briefs from the event. Their activities can be followed on @GLOSSshef and @GECGlobal.
The team:
Evelyn Baskaradas - M.Sc. Data Science, Information School
Victoria (Tor) Baskett - M.A. Digital Media & Society
Rebecca Heminway (formerly Barnes) - M.A. Digital Media & Society
Romany Kisbee-Batho - Graduate Diploma in Law, Law School
Daniel Kirby - M.A. Digital Media & Society
Myra Mufti - M.Sc. International Social Change & Policy
Hana Okasha - B.A. Digital Media & Society
Michael Pinney - M.Sc. Applied GIS, Urban Studies & Planning
Summit Blogs
Women in Tech: More than Just a Numbers Game - Myra Mufti, Romany Kisbee-Batho and Suay M. Ozkula
First Impressions: Do Intelligent Systems Really Tell the Whole Story in Big Data? - Hana Okasha, Evelyn Baskaradas and Suay M. Ozkula
Making Academia an Open Book? Bibliodiversity and Open Access Publishing - Victoria Baskett, Rebecca Heminway and Paul J Reilly
VeganCoin: New Kid on the Block(chain) - Daniel Kirby, Michael Pinney and Paul Reilly
Policy Briefs
Okasha and Suay - Big Data: A Challenge to Democratic Practices
Mufti and Ozkula - Why Technology Needs Women as Much as Momen Need Technology
Disease, Devices and Development: Creating a National eHealth Strategy in 2019 - Heminway, Ozkula and Reilly
Kirby and Ozkula - Putting Ethics at the Core of AI: How Do We Build Inclusive and Intelligible Intelligence
Baskaradas and Reilly - In search of a Gender-Balanced approach towards Smart Cities 3.0
Baskett and Reilly - Educational Digital Divides: Addressing English monolingualism within academic research
Kisbee-Batho and Reilly - Legal identity as a barrier to digital connectivity for refugees
Pinny and Reilly - E-agriculture- Co-ordinating fields to save the environment