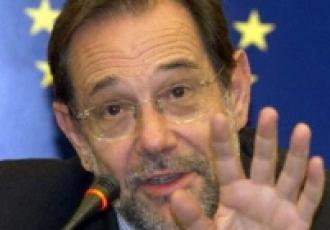 Position
Former High Representative for the Common Foreign and Security Policy and Secretary-General of the Council of the European Union
Achievements
Former High Representative for the Common Foreign and Security Policy and Secretary-General of the Council of the European Union
Dr. Solana served for ten years as Secretary-General of the Council of the European Union and EU High Representative for the Common Foreign and Security Policy, and Secretary General of Western European Union, ending in December 2009.
Dr. Solana earned a doctorate in physics and taught solid-state physics at Madrid Complutense University before entering politics. In 1977, he was elected to the Spanish Parliament, and from 1982 onward, he held a number of cabinet posts including minister of culture, government spokesperson, and minister of education and science. In July 1992, he became minister of foreign affairs, a post he held until he became NATO secretary-general in December 1995.
He is currently president of the Centre for Global Economy and Geopolitics at ESADE Business School, as well as President of the Madariaga - College of Europe Foundation. He is a member of Spanish Chapter of the Club of Rome and a Knight of the Order of St Michael and St George. In 2010 King Carlos I appointed him a Knight of the Order of the Golden Fleece for his career in diplomacy.